Hindus make up roughly 80 percent of India's 1.24 billion people, while very roughly, 13 percent (161 million) are Muslim, and 2.3 percent (28.5 million) are Christians; 1.8 percent (22.3 million) are Sikhs and millions identify with other religions groups.
The Vishwa Hindu Parishad (VHP) is one of India's largest Hindutvadi/ Hindu chauvinist/nationalist organizations in the world. In recent years, the members and leaders of the VHP in collaboration with

Dharam Jagaran Samiti

("Religious awakening committee"), a Hindu activist group affiliated to the

Hindu nationalist

Rashtriya Swayamsevak Sangh

(RSS) and part of its family of organisations

Sangh Parivar

, have been running a program called

ghar wapasi.

The goal of

ghar wapsi

is to bring members of minority religious groups—mostly Muslims and Christians—"back to Hinduism, back to their original home," says Dharm Narayan Sharma, central secretary of the VHP. And he makes no apologies. "This is the work of India," he told.
Last year, the Muslim residents of the Vednagar slum in

Agra

were told by a local Hindu activist that, under a development programme of the

Narendra Modi government

, if they attended a

havan

(a Hindu sacrificial ceremony), they would get ration cards and other basic amenities. Some 250 people attended the ceremony. When the ritual was over, the participants were told that they had all become Hindus.

The 8 December conversion program was organized jointly by

Dharam Jagaran Samiti

and the

Bajrang Dal

, the militant wing of the largest Hindu organisation

Vishva Hindu Parishad (to which Prime Minister Narendra Modi belongs)

.

(See picture at the bottom for the ceremony.)
I
n
the northern state of Uttar Pradesh,
Rajeshwar Singh, t
he head of a local right-wing Hindu organization
Dharam Jagaran Samiti,
announced that his group's
goal
is to "free" India of Muslims and Christians in the next five years. F
ormer BJP MP and senior Vishwa Hindu Parishad (VHP) leader Ram Vilas Vedanti has announced to organize a grand "ghar wapsi' for over 3000 Muslims at Ayodhya in February.
===============
Here below is the executive summary of "
300 DAYS
-
Documenting Hate and Communal Violence under the Modi Regime" by
JOHN DAYAL, which has recently appeared in the Internet.
===============================================
The rape of a 70 year old Nun in West Bengal in an attack on a convent and school in February 2015 sent shock waves throughout India, and the world. "Protect not just Cows, but human beings also," said Cardinal Baselios Cleemis, President of the Catholic Bishops Conference. At least 43 deaths in over 600 cases of violence, 149 targeting Christians and the rest Muslims, have taken place in 2014 in India till March this year, marking 300 days of the National Development Alliance government of Mr. Narendra Modi. The number of dead is other than the 108 killed in Assam in attacks by armed tribal political groups on Muslims. Desecration and destruction of churches, assault on pastors, illegal police detention of church workers, and denial of Constitutional rights of Freedom of Faith aggravate the coercion and terror unleashed in campaigns of Ghar Wapsi and cries of Love Jihad. Since May 2014, there has been a marked shift in public discourse. There has been a relentless foregrounding of communal identities, a ceaseless attempt to create a divide between 'us' and 'them'. The BJP leaders guaranteed to abuse, ridicule and threaten minorities. Hate statements by Union and state ministers, threats by Members of Parliament, state politicians, and cadres in saffron caps or Khaki shorts resonate through the landscape. But most cases go unreported, unrecorded by police.
The Prime Minister refuses to reprimand his Cabinet colleagues, restrain the members of his party members or silence the Sangh Parivar which claims to have propelled him to power in New Delhi. Mr. Modi calls for a ten-year moratorium on communal and caste violence. His government soon declares Christmas to be a "Good Governance Day" in honour of the BJP leader and former Prime Minister, Mr. Atal Behari Vajpayee. There are fears at a severe whittling down of the 15 Point Programme for Minorities, a lifeline for many severely economic backward communities, and specially their youth seeking higher education and professional training. Anyway, Mr. Modi's "assurance" to religious minorities is challenged and countered by Mr. Mohan Bhagwat, the head of the powerful Rashtriya Swayamsewak Sangh, who asserts, repeatedly, that every Indian is a Hindu, and minorities will have to learn their place in
the country.Speaking at the 50th Anniversary of foundation of its religious wing, Vishwa Hindu Parishad, Mr. Mohan Bhagwat, the RSS Sarsanghchalak bluntly stated that "Hindutva is the identity of India and it has the capacity to swallow other identities. We just need to restore those capacities." In Cuttack, he asserted that India is a Hindu state and "citizens of Hindustan should be known as Hindus". Sadhvi Prachi, a central minister, Members of Parliament Sakshi Maharaj and Adityanath are among those urging measures to check Muslims, including encouraging Hindu women to have from four to ten children each. In Madhya Pradesh, Chhattisgarh, Rajasthan and other states, the terror, physical violence and social ostracizing of Dalit and Tribal Christians, in particular, continues.
The 300 days have also seen an assault on democratic structures, the education and knowledge system, Human Rights organizations and Rights Defenders and coercive action using the Intelligence Bureau and the systems if the Foreign Contributions Regulation Act and the Passport laws to crack down on NGOs working in areas of empowerment of the marginalized sections of society, including Dalits, Tribals, Fishermen and women, and issues of environment, climate, forests, land and water rights.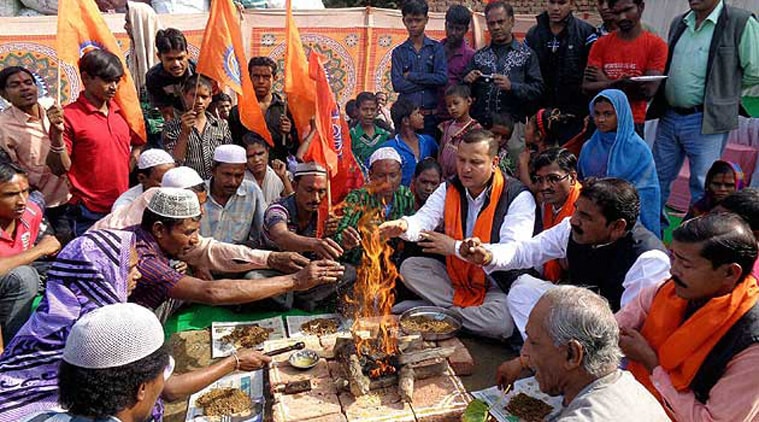 This report is focused on issues of communally targeted violence and the politics of hate and divisiveness that emanates from a thesis of religious nationalism.