If you are interested to find out to what low a sly and conniving politician would lower himself to distorting history and trying to absolve his own records of mass murder look no further than Benjamin Netanyayhu, Israel's prime minister.
As I have argued several times, he is a war criminal and a sociopath. He has no problem ordering murders of unarmed people while feeling relaxed, emotionally cool and exhibiting no feelings of remorse for such horrendous crimes done at his command and directives.
In the last several weeks more than 51 (I have lost count yesterday) Palestinians have been
murdered
by the settlers and security forces of the Apartheid State of Israel for a plethora of reasons, mostly for being suspected as harmful to the Jewish population. He enjoys collective punishment on the Palestinian, let alone ordering his forces to kill any suspect before asking questions. Add to that list demolition and eviction of Palestinians, let alone settlements violating scores of UN and international laws.
So serious is the deteriorating condition in the Occupied Territories that the UN Secretary General had to visit the killing fields of Occupied Palestine and tell him that "the walls, checkpoints, harsh responses by the security forces and house demolitions cannot sustain the peace and safety that you need and must have." It is a futile attempt to sober a savage like Netanyahu who knows where his true support lies! No, he won't be sobered by such mild criticisms from someone like Ban Ki-moon.
Israeli police
on Monday helped settlers carry out the eviction of a
Palestinian
extended family in East Jerusalem, which has been occupied by Israel since the war of June 1967.
"A large police force was deployed [Monday] morning to evict the Abu Nab family. Street was put under curfew," Betty Herschman, the international relations and advocacy director for Ir Amin, a nonprofit advocacy group in Jerusalem that monitors settlement activity, told Al Jazeera.
The Abu Nab family's eviction was
the result of a law that allows Jewish citizens — but not Palestinians — to reclaim properties lost during the 1948 war. Israel's Supreme Court
ruled April 16, 2015
, in favor
of the Abu Nabs' eviction
and said Jewish settlers could reclaim property that had been owned by a Yemenite Jewish community in the 19th century.
"My family has been renting this house since 1948," Abdullah Abu Nab
told Al Jazeera
after the court decision, noting that his family had been expelled from present-day West Jerusalem, which fell under Israeli control after the 1948 war that accompanied Israel's creation.
It was the first time
since 2009
that
Israel's
police forces
assisted settlers
in
such an eviction
, according to Peace Now, a liberal Israeli advocacy group.
Israeli policy has been a savage law befitting a suited prime minister of an apartheid country like Netanyahu. Now his government is making the lives of ordinary Palestinians more miserable by blocking their access to hospitals in the occupied Jerusalem.
As
Jason Ditz reported
a massive Israeli crackdown on Palestinian unrest, particularly in occupied East Jerusalem, has left hundreds of people wounded, and ever-growing restrictions of movement on the Arab population there and elsewhere. Either situation would be problematic, but combined the situation is getting much, much worse.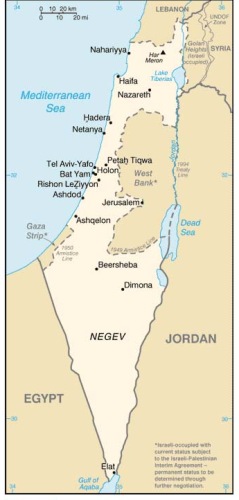 This
huge influx of new patients threatens to overwhelm hospitals
which are suddenly surrounded with checkpoints, and which Israeli security forces are heavily restricting access to. Even the doctors and other staff at these hospitals are struggling to get to work.
For patients, in many cases, it's nearly impossible, with people who used to live less than 10 minutes from the hospital finding waits of an hour or more just to get around a military checkpoint, and report Israeli troops firing live rounds at them as they try to get wounded relatives to receive care.
Israeli police downplayed the complaints, saying ambulances are allowed through the checkpoints and the complaints about patients dying, waiting in civilian cars to get through checkpoints were "far-fetched." At the same time, the police conceded even they aren't sure how many checkpoints they've set up at this point, but insisted the situation was fine.
Neighborhoods of tens of thousands of civilians are being effectively sealed off by the checkpoints, however, and freedom of movement is severely curtailed for the average Palestinian, even as Israeli officials call for more restrictions in the name of security.
To deflect public opinion and sanctify his gruesome murder of Palestinian civilians, Netanyahu has invented a lie about a Palestinian who reportedly had met Adolf Hitler in the early 1940s.
Then Netanyahu delivered a jaw-dropping assertion:
"Hitler didn't want to exterminate the Jews at the time, he wanted to expel the Jews. And Haj Amin al-Husseini went to Hitler and said, 'If you expel them, they'll all come here.' 'So what should I do with them?' he asked. He said, 'Burn them.'
It is a shameful attempt which will not fool anyone but only the morons.
Reaction in Israel — and around the Jewish world — came hard and fast. First politicians were agog. Then historians of the Holocaust piled on. Then Netanyahu was mocked in social media memes and
parodies
.
Isaac Herzog, the leader of the opposition in the Israeli parliament, wrote: "This is a dangerous historical distortion and I demand Netanyahu correct it immediately as it minimizes the Holocaust, Nazism and … Hitler's part in our people's terrible disaster."
Herzog pointed out that the Holocaust had already begun by the time the
Grand Mufti met Hitler
in November 1941.
Zionist Union parliamentarian Itzik Shmuli demanded Netanyahu apologize to Holocaust victims,
according to the Israeli newspaper Haaretz
.
"This is a great shame, a prime minister of the Jewish State at the service of Holocaust-deniers — this is a first," Shmuli said. "This isn't the first time Netanyahu distorts historical facts, but a lie of this magnitude is the first."
"This wasn't a speech by Jorg Haider," the late leader of the far-right Freedom Party in Austria, wrote Zehava Galon of the left-wing Meretz party on her Facebook page. "This wasn't a snippet of Palestinian Authority President Mahmoud Abbas' doctoral thesis," which questions that 6 million Jews were killed in the Holocaust. "This was an actual quote by the prime minister of the State of Israel, Benjamin Netanyahu, before the World Zionist Congress. It has to be seen to be believed."
"Perhaps we should exhume the corpses of the 33,771 Jews murdered in Babi Yar in September 1941, two months before the Mufti and Hitler met, and bring them up to speed on the fact that the Nazis had no intention of destroying them," Galon wrote.
Babi Yar
was the ravine outside the Ukrainian capital of Kiev where the mass killing of Jews by German troops and local collaborators took place.
The Palestinian leader and former peace negotiator Saeb Erekat said, "Netanyahu hates Palestinians so much that he is willing to absolve Hitler of the murder of 6 million Jews."
The chief historian of the
Yad Vashem
, the World Center for Holocaust Research, Documentation, Education and Commemoration in Jerusalem, Dina Porat,
told the Israeli news Web site Ynet
that Netanyahu's statements were factually incorrect.
"You cannot say that it was the mufti who gave Hitler the idea to kill or burn Jews," she said. "It's not true. Their meeting occurred after a series of events that point to this."
Even the Germans pointed out to Netanyahu that fault for the Holocaust was theirs.
"All Germans know the history of the murderous race mania of the Nazis that led to the break with civilization that was the Holocaust," Chancellor Angela Merkel's spokesman Steffen Seibert said when asked about Netanyahu's remarks, the Reuters news agency reported.
The Mufti died of cancer in Beirut in 1974.
You can read the story by clicking
here
.