Recently CNN has published on the plight of the Rohingyas of Myanmar who have come to replace the Vietnamese Boat People of the 1970s and 1980s. It is estimated that in the last 3 months alone some 25,000 Rohingya people may have taken the sea voyage to leave their homeland in Myanmar where they face unfathomable cruelty. Many suspected that their migration was all about ethnic cleansing drives by Buddhist terrorists, but not known before was the fact that many of them were forced by racist Rakhine Buddhists to take the trip.
Here
below is a full report on their plight:
Advocacy group Human Rights Watch (HRW) has alleged that some of the thousands of displaced boat people -- many of whom are still stranded at sea --
were forcibly removed from their homes and put on migrant ships.
The agency has collated witness reports from Rohingya Muslims -- a minority which endures persecution in Myanmar -- who say they were forced to leave the country by groups of men armed with knives and guns.
Yasmine, a 13-year-old girl, told HRW that a dozen men came to her home in Rakhine State, home to many Rohingya, and told her she needed to leave Myanmar, which is also known as Burma, to join her brother in Malaysia.
"They dragged me to the boat, they had sticks and threatened to beat me," she said. "I screamed, I cried loudly. My parents were weeping, but they couldn't do anything. I went onto the boat with three men. When I got to the big boat... I cannot explain my feeling, I was so scared."
Another, 16-year old Arefa, said that six Rakhine Buddhists from Bangladesh, armed with knives and guns, forced her to get on a boat. "They told me I was leaving Myanmar," she said. After a six-hour journey to a larger vessel she spent two months at sea with 95 other migrants, amid dwindling food supplies and abysmal sanitary conditions, before arriving in Malaysia.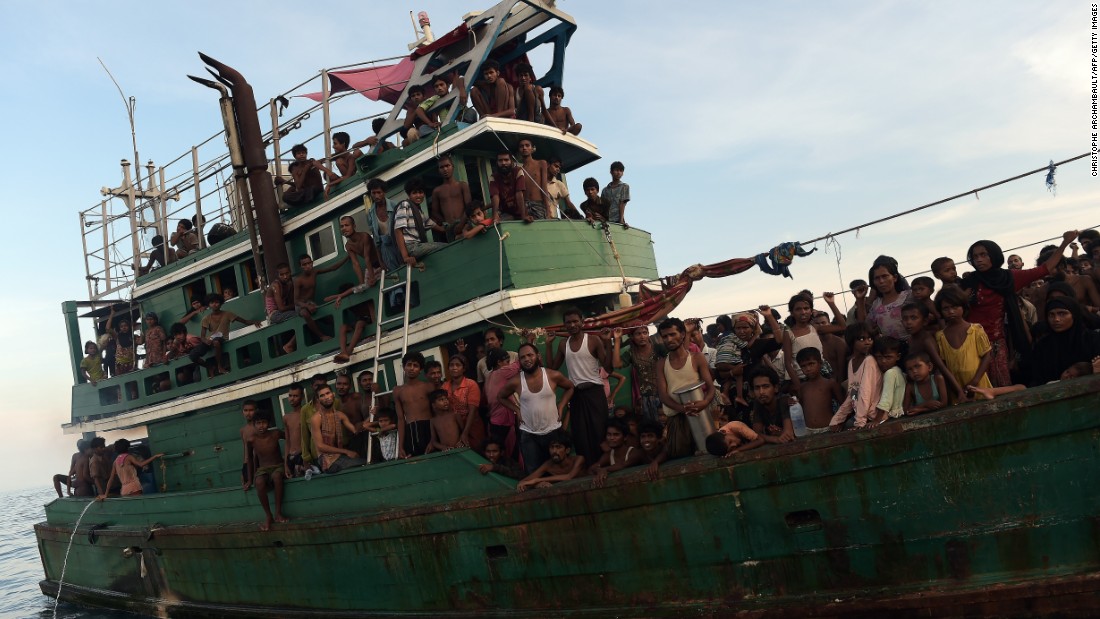 "I don't know what I'll do in Malaysia, I have no money. I miss Myanmar, but I know I cannot go back," she said.
=======================
Nationalists and Buddhist activists in Myanmar were given permission to march in the country's largest city, Yangon, in protest against foreign pressure to provide aid to Rohingya Muslims. Burmese nationalists claim that the Rohingya minority are Bangladeshi, despite many Rohingya having roots in the country going back generations.
Nationalist religious activist Ko Min Min, told the Myanmar Times: "I will never accept these boat people in Myanmar. I will always oppose this because they are from Bangladesh."
Phil Robertson, deputy director of Human Rights Watch's Asia division, told CNN that the government is complicit, through their sanctioning of the march.
"The Burma government hasn't done anything to rein in incitement to violence and hate speech," he said. "Allowing this kind of march to go forward... (shows the) arbitrary nature how these permissions are granted."
=============================
Thailand is due to host an international meeting on the issue of seaborne migrants in Bangkok on Friday, where the crisis will top the agenda.
Deputy Prime Minister and Foreign Minister Tanasak Patimapragorn said Tuesday that the meeting would focus on the immediate problem of helping those migrants still stranded at sea, but also address the wider issues causing seaborne migration in the region, and solutions to crack down on the human traffickers who facilitate the system.
The Bangkok Post reported that Tanasak expected some workable solutions to be agreed upon at the meeting, but stressed that the international community should play a role in ending the crisis.
Robertson says that the meeting also needs to address the root cause of the Rohingya's plight.
"There needs to be a concerted push on Burma to end discriminatory policies against Rohingya," he said. "People like this are essentially caged up, prisoners in their own land. Given the limitations on their basic ability to survive and support themselves, it's unsurprising that they are lured by people smugglers. (There needs to be an) effective push to end the deprivation that leads them to make these kinds of decisions."
At a meeting last week, Indonesia and Malaysia agreed to temporarily accept thousands of migrants, as long as the international community helps to resettle them within one year.
"It's going to be very important for front-line states (such as Malaysia, Thailand and Indonesia) to provide full and unimpeded access to the UNHCR and assess whether they are eligible for refugee status," Robertson said.
"The one-year deadline is only going to happen if there are impartial assessments (of refugee status claims) by international agencies like the UNHCR."
He added that the IOM should play an important role in assessing if the migrants are victims of human trafficking.
=================
Malaysian authorities confirmed earlier this week that 139 graves and 28 abandoned camps discovered close to the Thai border were related to human trafficking.
Inspector General of Police Khalid Abu Bakar said that Malaysian police and border guards, as part of an operation, found a burial site which contained corpses which had decomposed to the level that only skin and bones remained.
Fences and sentry posts indicated that the camps held captive migrants, he said.
"Some of the camps found showed that they have been occupied since 2013, and the latest two camps were abandoned two to three weeks ago," Khalid told Bernama, the Malaysian state news agency.
Those who have experienced the camps tell of a brutal existence as the brokers seek to extort the migrants' relatives.
"Brokers told our relatives to send the money and beat us when we were on the phone. They're very bad people," Sharuf Khan, a Rohingya migrant who spent seven months in a jungle camp, told CNN affiliate ITN. "There's little to eat here. Some people starve. Many are sick.
"One man didn't have the money to pay the ransom, so the brokers beat him. They handed him over to the camp guards, and said, 'you can finish him.' The guards took a rope and hanged him."