Israel's high court
temporarily halted
the demolition of the Bedouin community of
Khan al-Ahmar
on 5 July, in the face of fierce protests from residents and solidarity activists, and mounting international criticism.
Earlier this week, Israel
began
what may be the final and complete destruction of the occupied West Bank village – an act that would be a
war crime
.
Israeli military forces
arrived
in the village on Sunday to begin preparations for demolition.
Some of Khan al-Ahmar's nearly 200 residents tried to resist Israeli encroachment on their land, but Israeli forces beat and arrested them.
Dozens of villagers were injured, and four were hospitalized, Palestinian medical sources
told media
on Wednesday.
This video shows Israeli forces reacting with extreme violence against Palestinian women and men attempting to defend their homes from the bulldozers, as terrified children look on. One man can be seen with blood on his head:
"The mood is better, people are less stressed, but we are still worried," Mahmoud Abu Dahouk, 51,
told
Reuters. Dahouk was born in the village.
Nearby demolitions
While eyes were on Khan al-Ahmar, Israel demolished a dozen structures in the Palestinian community of
Abu Nuwwar
on Wednesday. As a result, 62 Palestinians, half of them children, were left homeless, according to the Israeli human rights group B'Tselem.
"The children of Abu Nuwwar should not be experiencing the trauma of displacement that preceding generations of Palestine refugees have already experienced,"
UNRWA
, the UN agency for Palestine refugees,
stated
.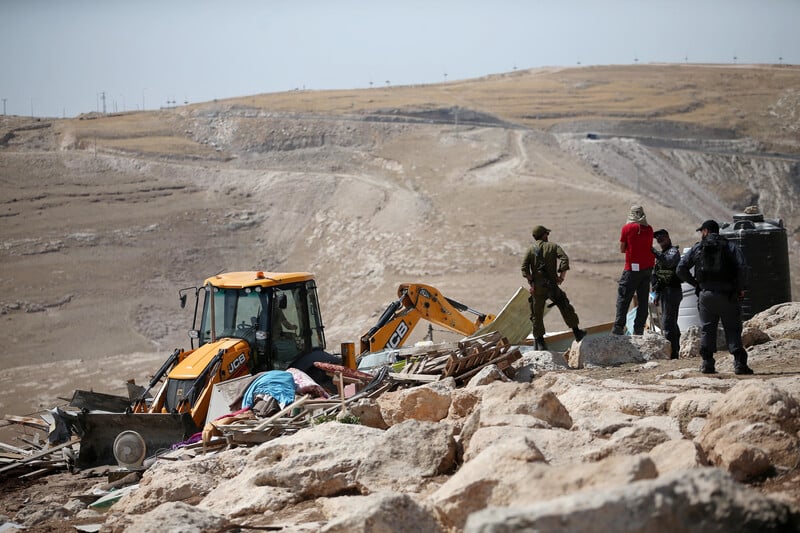 Earlier this year, Israeli occupation forces
demolished
two buildings in Abu Nuwwar. The destruction left more than 25 children in the third and fourth grades without a place to learn.
The school was built with funding from the
European Union
and the
Palestinian Authority
in September, but the EU has done anything to hold Israel accountable for the destruction of the classrooms.
This is in keeping with the EU's inaction over the
tens of millions of dollars
of projects it has funded that Israel has destroyed in recent years.
On Thursday, Israeli forces
demolished
the home of a Palestinian family in the community of
Susiya
in the
South Hebron Hills
.
Soldiers also beat members of the family of eight when they tried to resist the demolition, which came without warning.
European complicity
On Tuesday, the Israeli military declared Khan al-Ahmar a closed military zone, blocking roads inside and leading to the village.
Israeli forces
stopped European diplomats from entering
the village as well, preventing them from visiting the area's school.